EasyTRC is pleased to announce the addition of a new features requested directly by clients.
The sales leaderboard can now be made public to the world.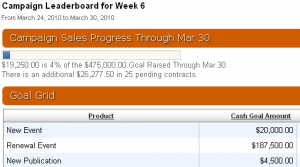 Plus, you can display it with the styling that comes with EasyTRC or a "skinnable" version that just exports the data and takes on any styling you wish to use. This "skinnable" version means that EasyTRC now allows you to embed your Total Resource Campaign leaderboard directly into your Chamber's website or your TRC campaign website.
You can provide links to specific weeks or the very latest leaderboard.
How Do I Do This?
Load up the leaderboard in your browser. Now just add "&public=skinnable" to the end of the web address. This is the link you can include anywhere.
To point people to a specific week's leaderboard example: http://demo.easytrc.com/2010-trc-2/campaign-leaderboard?id=17&public=skinnable .
To point people to the latest week's leaderboard, just drop off the "id=" part. So the address becomes: http://demo.easytrc.com/2010-trc-2/campaign-leaderboard?public=skinnable
This works great for WordPress pages!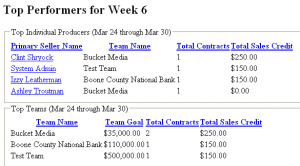 Everything is classed so skinning using CSS should be relatively easy, but we're happy to help in any way we can.
Check out an example
Other updates included in v2.5.11
New renewal prospecting and renewal exception reports.
New investment product type.
Major cleanups to product information code on sales side for all simple product types.
Public campaign leaderboard option available for instances that want it.
Don't Run a TRC? Great! This System Tracks Contracts for Your Inside Salespeople

EasyTRC is a contract manager that allows your professional organization to handle the flood of contracts that go with memberships and sponsorships of events and publications. Originally built to help the hundreds of volunteer salespeople enlisted in Total Resource Campaign efforts of Chambers of Commerce and Associations, EasyTRC has been found to greatly help the inside sales staff of organizations with the task of contract management.
It costs nothing to find out how EasyTRC can help your organization improve the bottom line. Give us a call today.