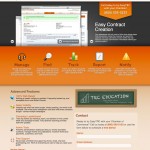 Delta Systems and Fremont Development Group are very pleased to announce the formation of a strategic alliance. The alliance will allow Fremont to upgrade all their existing customers to use the EasyTRC system. Delta and Fremont also intend to co-market EasyTRC to every organization that has ever used Fremont to implement a Total Resource Campaign.
EasyTRC is a service of Delta Systems Group.
Fremont has been a pioneer in defining the TRC structures necessary to ensure successful fund raising campaigns. They continue to champion the Total Resource Campaign concept. They have been the industry leader in educating chambers of commerce and other organizations about the benefits of using a Total Resource Campaign to increase sales, raise awareness, and expand member involvement in Chambers of Commerce throughout the United States. This alliance will bring out the strengths of both companies – on-site, expert consulting and a powerful, web-based contract management and communication system (EasyTRC).
About Fremont Development Group
Since 1994, Fremont Development Group has used its proven methodologies and innovative strategies to help raise funds, increase charitable giving, and clarify vision for Chambers of Commerce, non-profits, and economic development organizations.
We help non-profits accomplish their mission by generating the revenue needed to become self-sustaining organizations. Headquartered in Atlanta, Georgia, Fremont Development Group serves clients across the United States.
About Delta Systems

Since 1986, Delta has been building tracking systems for everything from napkins to insurance policies, from golf courses to hot dog ingredients, from horse ailments to yoga certifications, and from blood donors to paddlefish. Building online applications and data management systems that are intuitive yet powerful is our specialty.
How can we help? Give us a call and discuss it for free.